Let's Map Your Philanthropic Path – Together
We are fortunate to work with countless generous people who love the Adirondacks – who want to make a positive impact today and tomorrow. What does that look like? It's different for everyone. For some, it's supporting Generous Acts and entrusting us to direct grants to where the greatest needs are. For others, it's establishing a donor advised fund to ensure the causes, communities, and organizations they care about are supported today and for years to come. And for the forward thinkers, it's leaving a lasting legacy for the Adirondack region to create good today and in the future. 
Whatever your motivations are for giving, we are here to work alongside you – to map out your philanthropic path, from trail marker to summit. Our suite of giving resources and knowledgeable staff help to ensure that your giving is impactful and done your way. As the philanthropic hub for the Adirondacks, we are proud to partner with you to create lasting good across our region.

Three Ways You Can Give Back with Us.
There are multiple ways to "give with" Adirondack Foundation. Why do we say, "give with" instead of "give to?" Because making a gift, setting up a fund, leaving a legacy, or choosing any combination of these actions, builds dedicated charitable resources specifically for Adirondack communities. This means we give together through grants and programs to strengthen local communities now and beyond our lifetimes. Here are the three main ways you can give back with us...
Make your gift.

Give to Generous Acts to help us address critical needs in our communities, or support a fund that aligns with your interests.

Start your fund.

Set up a donor-directed fund and give alongside us to spread and amplify good across the Adirondacks.  

Leave your legacy.

Create a lasting legacy to ensure the communities and causes you care about continue to receive support in the future.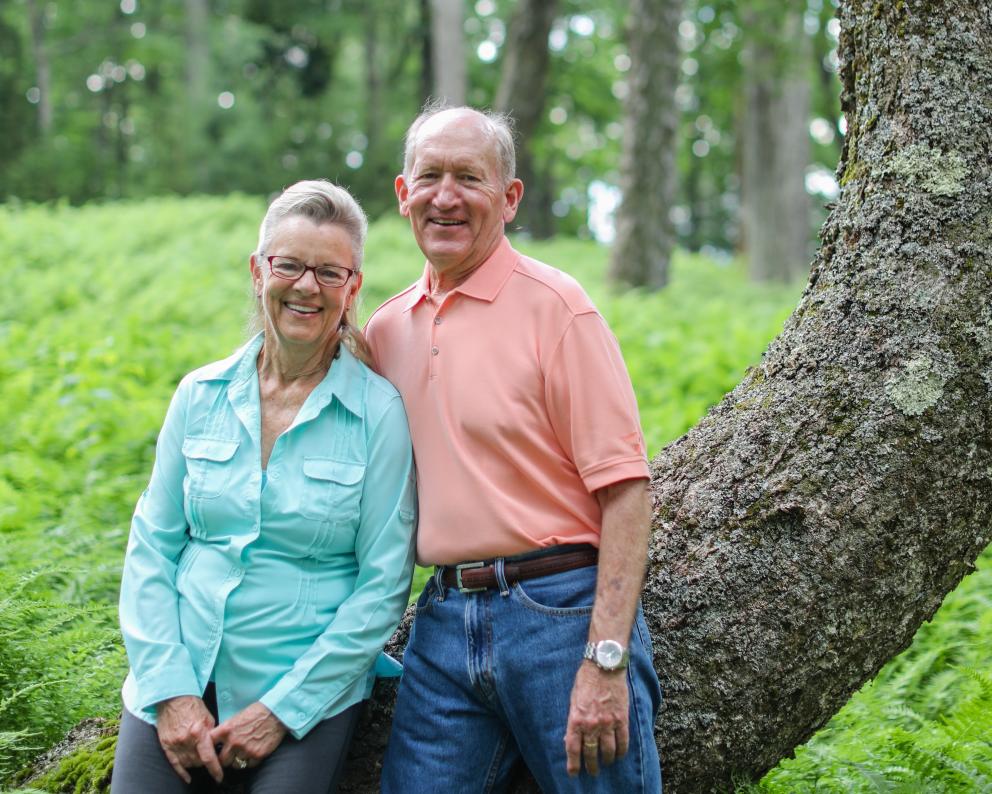 Testimonial Section
The most valuable money is giving unrestricted because it can meet the need at the moment where it does the most good. There's no better way to give if you trust the entity.
Craig and Connie Weatherup
Adirondack Foundation board member and fundholder
Meet Craig and Connie
When you give to and through Adirondack Foundation, you receive efficient administrative support, access to tools that help to streamline your giving, personal attention – and, best of all, leveraging of your generosity through the Foundation's reach, influence, and knowledge. In short, you become part of a community of givers who love the Adirondacks.

As challenging as these times are, the pandemic is bringing out the innate goodwill that exists in our communities. And it's clear that our work prior to the pandemic – creating and scaling custom philanthropic solutions for families and individuals who love the Adirondacks – continues to strengthen communities at a critical time and will pay dividends long into the future. Thanks to an overwhelming increase in donations to meet urgent needs and bolster the resilience of our communities during these unprecedented times, the Foundation has granted out over $1.2 million in COVID-19 response and recovery funds to local nonprofits, schools, and communities in need. You can learn more here.​​​

We can simplify your giving, take care of administrative duties, help you take advantage of tax benefits, and share our deep knowledge about community challenges and the local nonprofits addressing them. While we would love for you to become part of Adirondack Foundation's family of donors collectively committed to this special part of the world, the most important thing is to give.

Many financial institutions offer charitable gift funds, which are similar in some respects to the funds offered by Adirondack Foundation – you give money, you get a tax advantage, and the institution handles all of the paperwork associated with your fund's transactions.

The most notable difference is that Adirondack Foundation is a true resource for Adirondack-focused philanthropists. We help you understand the most pressing issues facing our region, and point you to where you can make a real difference. We share our deep knowledge about organizations doing outstanding and innovative work. And you can rest assured that your charitable assets are invested well, as Vanguard Institutional Advisory Services is our money manager. Learn more here.

Scenic beauty and outdoor recreation are our region's calling cards, attracting millions of visitors annually and shaping a way of life for residents seeking simplicity and safety. At the same time, like other rural areas, isolation, insufficient public transportation, and long distances to healthcare and other services pose challenges to many residents.

In comparison to the rest of New York State, our region trends toward a higher median age, lower median household income, fewer college graduates, and higher rates of poverty. Compounding socioeconomic factors like these are not always visible but they are ever-present, making it challenging to close achievement gaps, break cycles of generational poverty, and elevate living standards.

We invite you to work together with us to address these and many other challenges.